4.8 out of 5 (Based on 32 reviews)
Mini Golf game set
Create fiery chipping competition and endless enjoyment with the huge portable playing surface and real-feel sticky battle balls
Order now and you will receive the product between Tuesday 05.12 and Friday 08.12
Have fun while improving your golfing skills
With 5 different action game modes for endless fun with your friends and family.
Portable and Compact
Designed for convenience, the game set is compact and easily portable, allowing you to play golf anywhere, whether it's indoors or outdoors.
For the whole family
Introduce your children to the exciting world of golfing and spend quality time with your family.
Multiple Game Modes
Choose from 5 different game modes for endless hours of entertainment.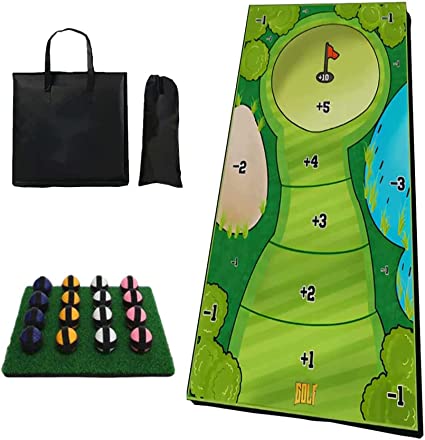 Transform your next gathering into an exciting friendly face-off
Connect with friends and family through multiplayer mode, where you can compete against each other or team up for exciting golfing adventures.
The game set is built with durable materials, ensuring long-lasting performance and enjoyment for golf enthusiasts of all ages.
Peffect for parties, BBQ gathering or family activities both indoor or outdoor.
Improve your short game striking from home.
Properties
Durable materials
All you need in 1 big pack
1 x Huge 5 Foot Tall Battle Royale Sticky Playing Surface
16 x Soft Sticky Golf Balls Designed to Mimic Real Golf Ball Flight (4 Colors for 4 Players)
1 x Short Grass Turf For Hitting Balls Off (Simulates Shots Around The Green)
1 x 5 High Drama Gamemodes Booklet
Mini Golf game set
Create fiery chipping competition and endless enjoyment with the huge portable playing surface and real-feel sticky battle balls
Top Choice
56,98€
99,98€
43,00€
43
Best price
80,97€
149,97€
69,00€
46
Order is sent from a Slovenian warehouse
Order now and you will receive the product between Tuesday 05.12 and Friday 08.12
Testimonials from our satisfied customers
Hailey
5
01.12.2023
Neat little game with a carrying case. Haven't played it yet but great game idea for the winter months and parties!
Josiah
4
25.11.2023
This is a great idea for indoor and outdoor game with the little ones.
Aria
5
19.11.2023
Fun game to play. Well made and sturdy.
Silas
5
13.11.2023
This is a fun game or good as a gift for golfers. Lots of options to play.
Anthony
4
07.11.2023
This is a must have for any golf fan.
Fast delivery
The delivery is usually made within 3-5 working days, depends on the order date.
100% satisfaction guarantee
If you are not satisfied with product, you can return it within 14 days.
EU merchant
We are present in 16 EU countries.
Frequently asked questions (FAQ)
Here you will find most of the questions related to product return policy, delivery, payment options and security of purchase on our website.

1. When can I expect the delivery?

The delivery is usually made within 3-5 working days, depends on the order date.

2. What if I am not at home at the time of delivery?

If you are not at the address at the time of delivery, the courier can leave the package at a collection point. Don't worry if you don't know where your package is.

3. Who delivers the packages?

The parcels are delivered by %s

4. What if I am not satisfied with the product?

If the product did not meet your expectations, we can refund the purchase price or exchange the product for another one.

5. How can I return the product?

All information about returning the product can be found on our website on the Return and exchange page.

6. I have a question that I couldn't find the answer to above.

If you have any further questions, we will be happy to answer your e-mail, which you can send to the e-mail address %s.